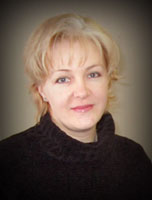 "I don't think my inspiration belongs to me. It is a very delicate state of soul that comes from outside of me. Some music, sunshine, or the leaves rustling in the wind inspire me. It can come from someone's word or a glance. It can be very light or feeble that you have to work very hard to keep, or it can be grand and powerful and you have to obey its will."
- Svetlana

Svetlana Shorey graduated from the Vocational State University of Arts in Moscow, Russia, and completed a 4-year study in Easel Art and Graphics.
She is also certified in interior decorating and design in the United States.